Fork Frames and Fork Spreaders Overview



Forklift Frames and Forklift Spreaders
Here are some of the many styles of fork spreaders we build. Each design is based on the customer's specific job at hand.
From the simple spreader bar mounted to the forks or the carriage, to extended fork mounted and carriage mounted fork frames, long, unstable and flexible products are easily handled and carried safely and securely.
The following pages illustrate the most popular styles we build. They are able to fit to any forklift or loader or telehandler.
Fork frames and spreaders are available with optional sideshift, quick change, manual or hydraulic fork spread and with a broad variety of fork capacities and lengths.
The spreader should be wide enough to support the load across all the forks. If the bow of the product is severe, we can reinforce the frame and outer forks to take the excess loads.
Commonly used for handling sheet metals and formed materials, re-bars, metal building sheathing, pipe and rounds, beams and bars, flexible lumber structures and engineered lumber products.
Call us if you don't get the data you need from this site. We have many years of experience to share to help you handle these goods safely and securely.

False Frames for Hook Type Carriages (View Details)

Fork Spreader Frame Fork Mounted (View Details)

Fork Frames Carriage Mounted (View Details)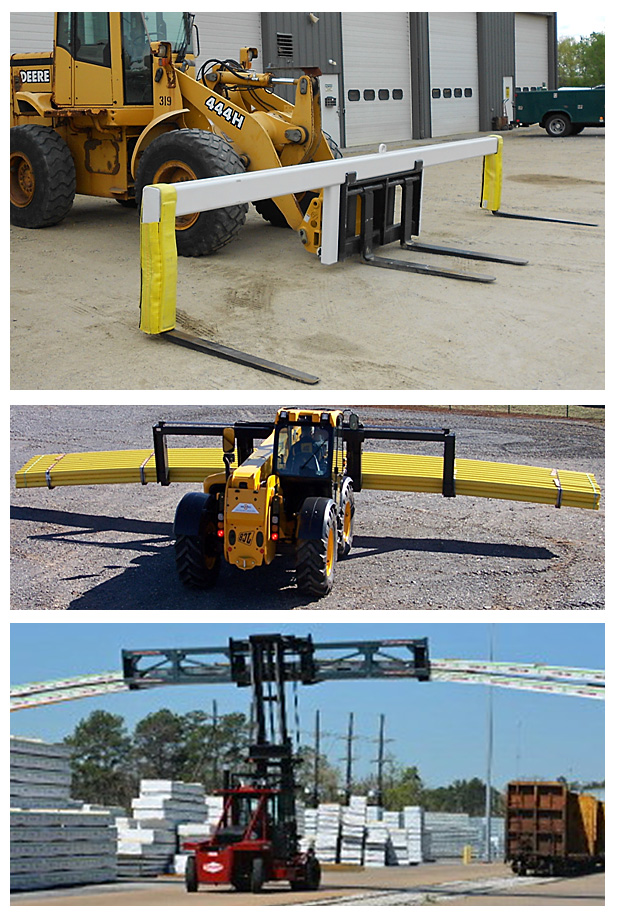 Fork-Co Leads the Pack
With our industry best lead times (4-5 weeks on complex builds), full in-house engineering and design team, on-site manufacturing and fabrication facility just south of Houston, TX, and very large standard product inventory, Fork-Co is the right choice for your project. We stand behind our products 100%, either it accomplishes your goals, or we aren't done.