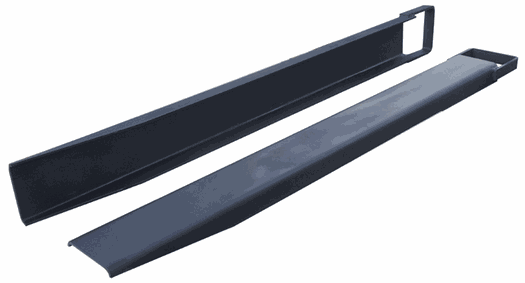 Features:
Lengths up to 96 inches in stock
Extensions Stamped with product ID, load capacity, and recommended fork size
Open Bottom and Large Closed Loop Heel Strap
Quick Installation
Fork Extensions
Fork extensions are used to extend the usable length of forks .

Open bottom extensions should not be longer than 50% of the original fork length.

Loads must be uniformly distributed along the length of the extension and must not have load concentrations beyond the tips of the truck's forks.

Extensions are rated at the capacity of the installed maximum fork size at a load center that is 50% of the extension length.

Extensions are not designed for tip loading or prying.
Need something more robust? Heavy Duty Fork Extensions

Fork-Co Leads the Pack
With our industry best lead times (4-5 weeks on complex builds), full in-house engineering and design team, on-site manufacturing and fabrication facility just south of Houston, TX, and very large standard product inventory, Fork-Co is the right choice for your project. We stand behind our products 100%, either it accomplishes your goals, or we aren't done