ITA Class II Forklift Forks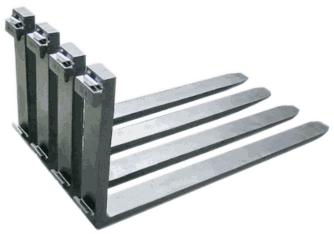 Class II Forklift Forks (2,000-8,200lbs*)
ITA Hook-Type Forklift Forks are the Industry Standard. Often referred to as Forklift Blades or Forklift Tines. The majority of light duty Forklifts are ITA Class II, II, or IV. This type of Fork hangs on your carriage using opposing "hooks" that engage the upper and lower fork bars on standard ITA Carriages. Fork-Co keeps a very large inventory of standard and non-standard sizes at our facility in Alvin, TX.
If the size you need isn't listed below, give us a call or send us an email, odds are we either have it, or can get / make it quickly..
Also See Class III & IV FORKS and Full-Taper & Polished or Lumber Forks

Need Slightly Longer Forks? Standard Extensions or HD Extensions
* Forks with 1.5" x 5" or larger cross section are mechanically capable of greater than the 5,500lb maximum capacity of an ITA Class II Carriage. The capacity rating of the Forks in no way increases the capacity of the forklift. The Forklift Manufacturer's Capacity Rating always prevails.

Fork-Co Leads the Pack
With our industry best lead times (4-5 weeks on complex builds), full in-house engineering and design team, on-site manufacturing and fabrication facility just south of Houston, TX, and very large standard product inventory, Fork-Co is the right choice for your project. We stand behind our products 100%, either it accomplishes your goals, or we aren't done