Roller Forks for Cargo Loading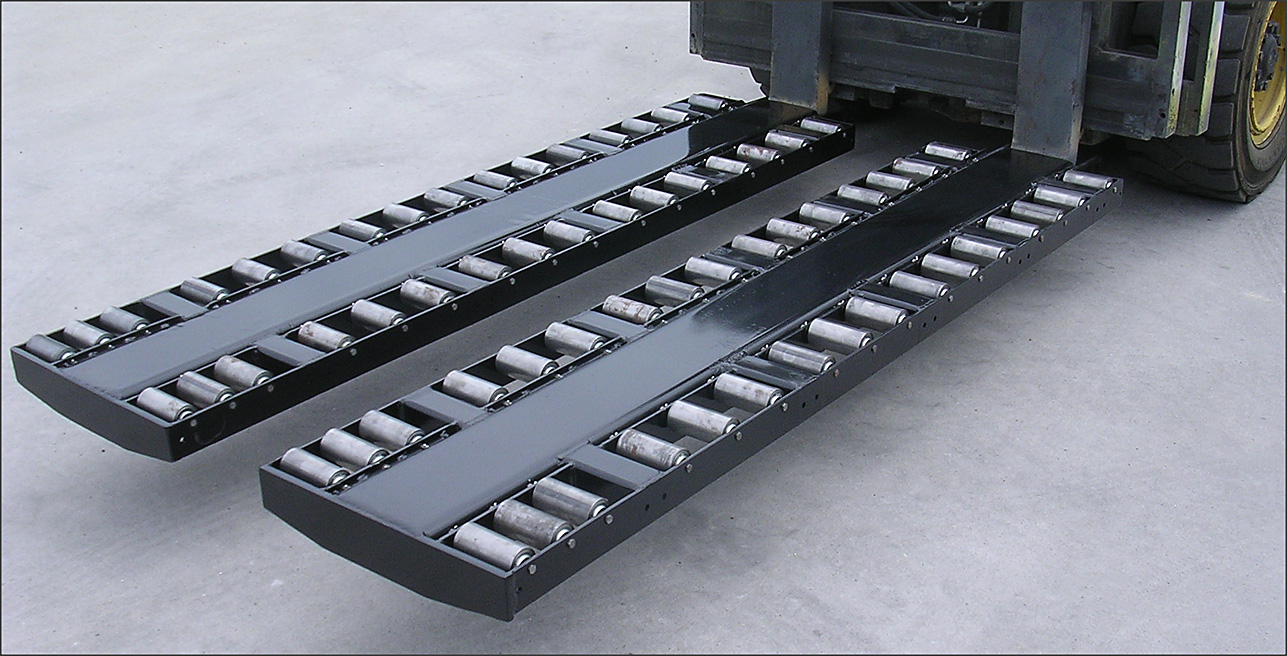 ROLLER FORKS FOR CARGO LOADING
Fork-Co Roller Forks for Cargo Loading are used to load pallets of cargo into aircraft having roller bed floors. Designed for use with smooth bottom cargo containers.
Features:
Custom Built to Fork Size and Fork Spacing
Heavy Duty Conveyor Rollers with All-Steel Construction
Made for Fast, Tough Work Performed by Freight Forwarders and Military
Easily Installed and Removed
Secured to Forks Using Self-Locking Pins
Permanently lubricated Rollers - Never Need Routine Maintenance
ROLLER FORKS:
Roller forks are Fork Sleeves having conveyer rollers on deck. They are used to handle aircraft pallets made of aluminum and load them into cargo aircraft. Usually loaded by being fed from a roller bed or conveyor string onto the forks. They are unloaded by the forks being slightly tilted to roll the pallet onto the cargo deck rollers. The roller forks are retained to the forks by a heel locking pin. The width of each roller fork is approximately 21 inches and the length typically about 84". The pallets handled are smooth bottomed without deck boards.
Roller forks are usually rated as 5,000 LB per fork at a load center equal to 50% of its length.
What we need to know:
The pallet type and dimensions

Load dimensions and weight

The fork length, thickness and width

Forklift make, model and capacity rating from the truck's capacity data plate

Fork-Co Leads the Pack
With our industry best lead times (4-5 weeks on complex builds), full in-house engineering and design team, on-site manufacturing and fabrication facility just south of Houston, TX, and very large standard product inventory, Fork-Co is the right choice for your project. We stand behind our products 100%, either it accomplishes your goals, or we aren't done.