Poly Coated Fork Extensions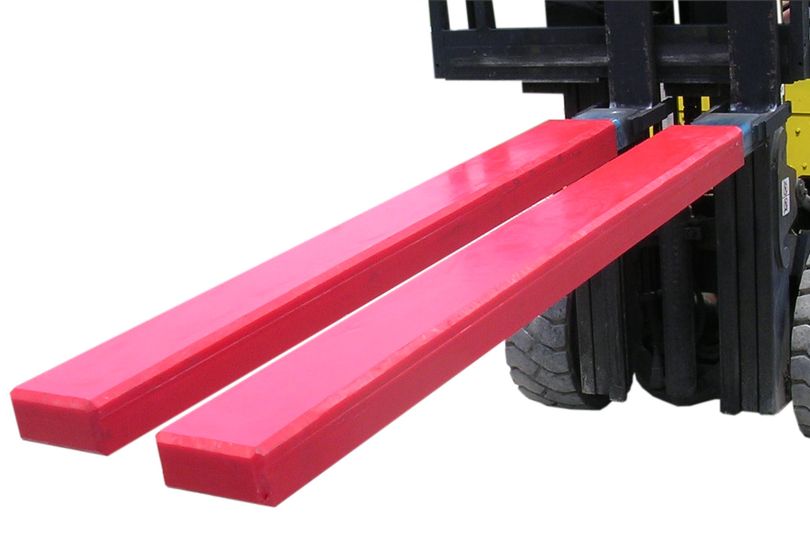 Poly Coated Fork Extensions
Poly Coated Fork Extensions are welded steel box-section fork sleeves coated with thick, High Durometer, Very Tough Polyurethane.
Uses:
-Handling Stainless Steel
-Handling Galvanized, Painted, Epoxy Coated, Plastics and Finished Wood
-When the fork corners, tips or steel blades are a problem
Features:
- Extremely durable, lasting much longer than vinyl or fabric style covers
- Installation is by forklift entry. Drive the forks into the rear openings.
- Self-locking pins engage behind the fork heels to secure sleeves to the fork.
- The steel inner sleeve is built to order to fit the host's forks closely.
Options:
- Poly-Coated on 4 or all 5 Faces

Delivery:
-As a custom fabricated product with a complex curing process, delivery typically runs 5-7 weeks.

Poly Coated Fork Extensions / Sleeves
These sleeves are used where extreme durability and load protection from carbon steel contact is needed. The poly coated sleeves are made the same length as the forks since they are not intended to be load bearing attachments other than to be under the load resting on the fork. They are retained to the fork using locking pins behind the heels. The poly can be poured to most any depth required. Typically, this will be between 3/8" to ½" thick. The 4 and 5 sided models usually get ¾" thick poly all around.

Fork-Co Leads the Pack
With our industry best lead times (4-5 weeks on complex builds), full in-house engineering and design team, on-site manufacturing and fabrication facility just south of Houston, TX, and very large standard product inventory, Fork-Co is the right choice for your project. We stand behind our products 100%, either it accomplishes your goals, or we aren't done