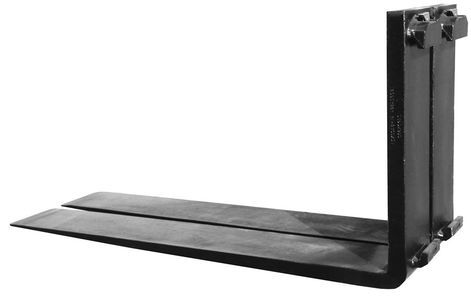 Plywood Forks (Full Taper & Polished)
Often referred to as Lumber Forks or Plywood Forks, these fork tines are different than standard taper forks in the sense that the taper starts near the heel and continues all the way to the the tip of the fork.
Tips on plywood forks are typically squared off, with a chisel tip making them on the tips thinner than standard forks. The purpose of this style fork is to effectively and efficiently lift bundles of wood building material without damaging the load with a forged finish or narrower contact surface.
Plywood Style Forks are also used frequently when "scooping" un-palletized loads directly off of the ground or floor. The Full Bottom Taper allows the chisel tip to sit directly on the ground to be effective in this application.
See a larger selection of FTP Forks in the Shop
Lumber or Plywood Forks:
Lumber Forks or Full-Tapered Forks or Full-Taper and Polished Forks are made with a typical maximum thickness of 1.5 inches and in various widths, depending on the load weight. They are all made as full bottom taper forks, meaning the taper runs from the tip , back to approx. 2 inches from the bend. The top of the blade is polished, unpainted, for ease of entry and exit. Tips are thin with a top chamfer for chiseling between plywood sheets and the tips are squared off, not rounded, to assist the chiseling effort.

Fork-Co Leads the Pack
With our industry best lead times (4-5 weeks on complex builds), full in-house engineering and design team, on-site manufacturing and fabrication facility just south of Houston, TX, and very large standard product inventory, Fork-Co is the right choice for your project. We stand behind our products 100%, either it accomplishes your goals, or we aren't done