SW Pipe Hold Down Clamp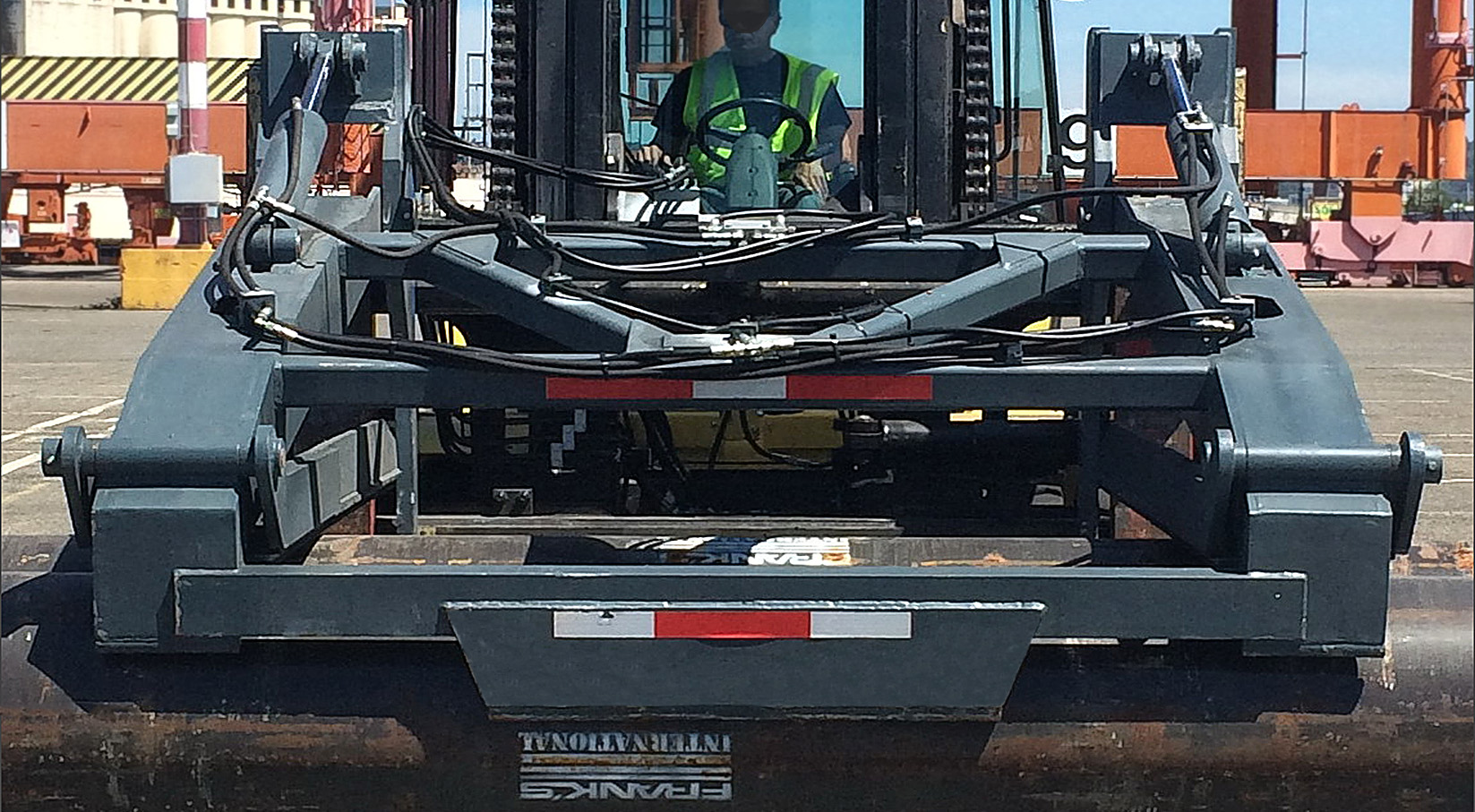 Handles a variety of pipe and round stock sizes safely. Models available for standard and wide opening ranges, various lengths and widths. Easy installation onto existing forklifts. No lost usable fork length. Rugged and durable design.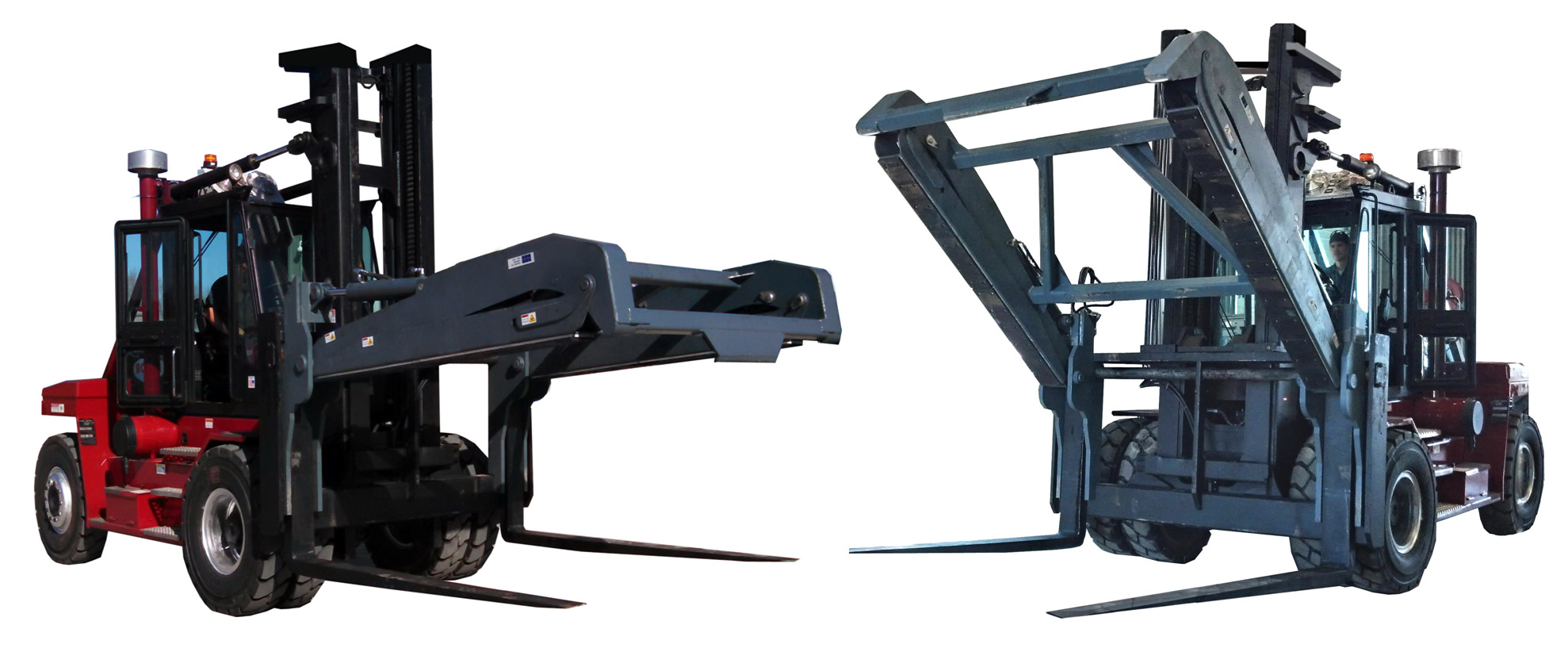 Model
Truck Capacity @ LC

Carriage Width

Min-Max

Fork

Length

Weight

LBS

HCG

Lowered

WPH-SW-MD2
18 - 25,000
84 - 98
96
2700
41
WPH-SW
26 - 36,000 @ 24"
84 - 120
96
3400
46
WPH-SW-HD
35 - 52,000 @ 48"
90 - 120
96
4600
46

FORK BAR MOUNTING
ALL PIPE CLAMPS IN THE WPH SERIES ARE DESIGNED FOR PIPE DIAMETERS FROM 3 INCHES TO 36 INCHES STANDARD. CONSULT FORK-CO FOR VARIATIONS AS REQUIRED.
FORK-CO'S UNIT PIPE CLAMPS REQUIRE NO WELDING, CUTTING OR MODIFICATIONS TO THE ORIGINAL FORKLIFT TRUCK CARRIAGE. OUR CLAMPS EMBED INTO THE FORK CARRIAGE ON THE ORIGINAL FORK MOUNTING BAR.
SPECIFICATIONS DEPEND ON THE FORKLIFT CARRIAGE AND MOUNTING CONNECTION. DETAILED NUMBERS AND DIMENSIONS ARE DETERMINED AT THE TIME OF QUOTING AND VARY ACCORDING TO THE REQUIRED MOUNTING DIMENSIONS. CONSULT FORK-CO FOR ADDITIONAL INFORMATION.

ALL CLAMPS REQUIRE SINGLE FUNCTION HYDRAULIC SUPPLY.
TWO-FUNCTION CONTROLS ARE AVAILABLE ON ORDER. ASK FORK-CO FOR THIS ARRANGEMENT.
CLAMP ARM CONTACT SURFACE IS STEEL IN STANDARD CONFIGURATION. PROTECTIVE PADDING IS AVAILABLE. PADS CAN ALSO BE FACTORY-DRILLED FOR FUTURE PADDING INSTALLATION.
ALL FORK-CO PIPE CLAMPS COME COMPLETE WITH ALL HOSING AND OPERATING VALVES INSTALLED. INSTALLER SUPPLIES THE SHORT CONNECTOR HOSES FROM FORKLIFT TO CLAMP HOSE TERMINATION BULKHEAD LOCATED AT REAR OF THE RIGHT HAND ARM.
MAXIMUM OPERATING PRESSURE RANGE IS 1800 TO 2000 PSI. TRUCK AUXILIARY SETTINGS MUST BE IN COMPLIANCE TO ENSURE SECURE LOAD RETENTION TO PREVENT EXCESS FORK DEFLECTION.
ALL FORK-CO PIPE CLAMPS ARE MADE IN TEXAS, USA.
CONSULT FORKLIFT MANUFACTURER FOR ACTUAL RESIDUAL CAPACITY OF THE FORKLIFT WITH THE CLAMP INSTALLED

Fork-Co Leads the Pack
With our industry best lead times (4-5 weeks on complex builds), full in-house engineering and design team, on-site manufacturing and fabrication facility just south of Houston, TX, and very large standard product inventory, Fork-Co is the right choice for your project. We stand behind our products 100%, either it accomplishes your goals, or we aren't done.