AB-C Pipe Clamp


The AB-C PIPE HOLD-DOWN CLAMP is designed to fit class 2 and class 3 (ITA/FEM/ISO) hook type carriages while retaining the sideshift function, if used, on most forklifts. The AB-C series handles pipe ranging from 2.8 inch diameter up to 20 inch diameter in lengths to 40 feet. This clamp is easy to install using ITA/FEM standard hooks.
The clamp has zero lost load thickness so the original fork length is retained. It opens to vertical, allowing the forklift to handle conventional cargo.
All of the clamp hydraulics are installed and this unit ships ready to plug and work. Give us a call or email us by our contact page. We can review your forklift setup to see if Series AB is right for your application.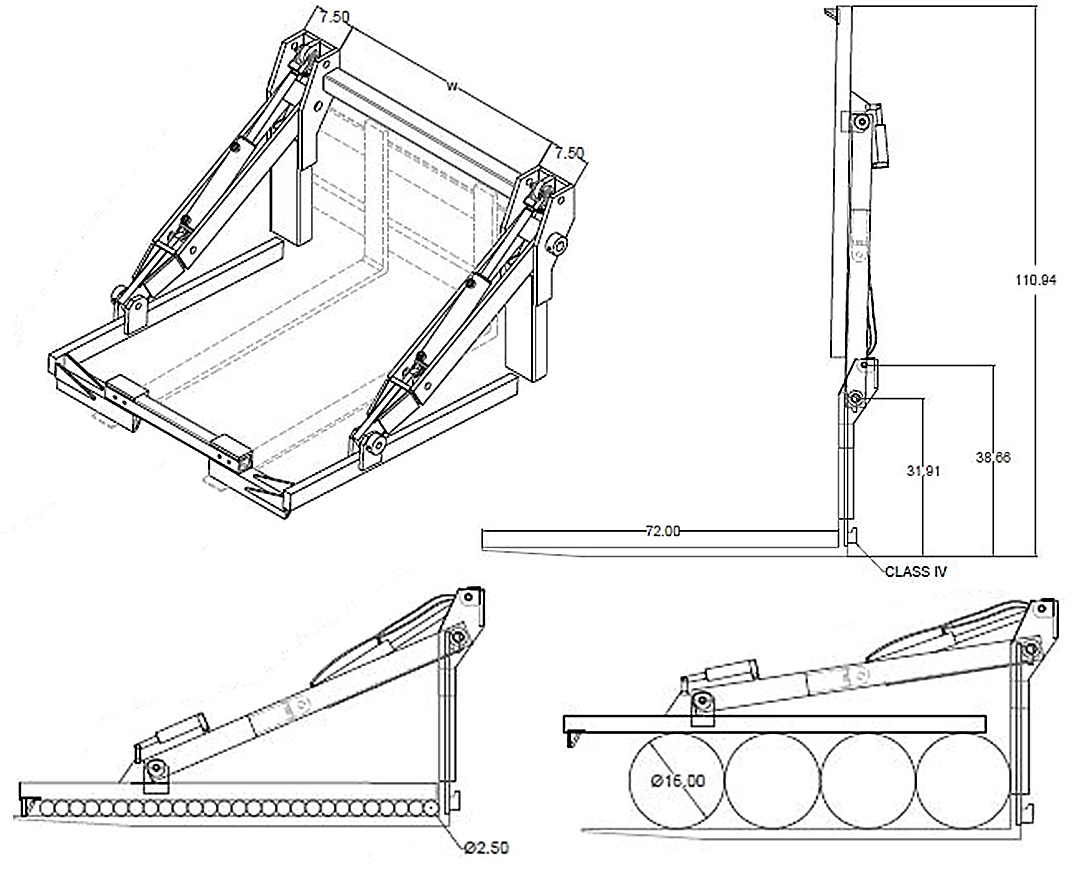 AB-C Forklift Hold-Down Clamp
Mounting Class
ITA Class IV; ISO/FEM Class 4A Hook Type with Bolted Adapter Plates

Physical Specs
WEIGHT: 1380 LB
AET (THICKNESS): ZERO
HCG: RAISED 1.75"; LOWERED 23.5"
VCG RAISED 47.5"; LOWERED 14"

Capacity at Load Center
17,500 LB @ 24" (CLASS IV; ISO 4A)

Clamping Force
8,200 lb @ 1750 psi

Pipe Diameter Range
2.0" - 32"
Control Valve
Dual Over-Center Valve with Hydraulic Lock Sun Cavity T-21A, Sun Assembly
CWE-LHN-XII
Operating Pressure
1500 - 1700 psi
Flow Rate
6-12 gpm
Max Arm Speed
OPEN/CLOSED FULL CYCLE: 5.5 SECONDS @ 10 GPM
Hydraulic Oil
VISCOSITY: 10W; PETROLEUM BASED; FILTRATION ISO 19/16

Max Operating Temp
80 C (170 F)
Plumbing
SAE 9/16 UNC THREADS; 3/8 INCH DIAMETER ID HOSE RATED BURST MINIMUM 3000 PSI ADAPTERS AND FITTINGS JIC #6 37 DEGREE FLARE


Fork-Co Leads the Pack
With our industry best lead times (4-5 weeks on complex builds), full in-house engineering and design team, on-site manufacturing and fabrication facility just south of Houston, TX, and very large standard product inventory, Fork-Co is the right choice for your project. We stand behind our products 100%, either it accomplishes your goals, or we aren't done.