Multi Purpose Rotating & Rigid Arm Carton Clamps
Multi purpose rotating & rigid arm carton clamps are used for handling palletless corrugated fiberboard cartons and boxes, wooden bins and crates, totes and lugs and in many bale applications where totes, bins, Gaylords etc. are common.
Arms surface is aluminum bonded to vulcanized grooved rubber to ensure secure grip and long life. The bolted rubber surface is replaceable.
Available in standard and custom opening ranges as well as custom arm lengths and heights.
Arms are very thin profile for easy load entry. Tips of the arms are protected by steel guards to preserve the surface integrity.
Features:
Revolving 360 Degree Rotation
Capacities From 3,000 Lb To 7,000 Lb
Adjustable Arm Travel Speeds
E-Profile Aluminum Frame
T-Bar Alloy Steel Arm Carriers
Self-Aligning Cylinders
Lube-Free Contoured Arm Bearings
Cylinder Protection Bumper
Steel Abrasion Protection
Proven Design
Low Profile Frame
Options:
Special opening ranges
Arm sizes
Quick change mounting
Bolt-on arms
Solenoid selector valve
Relief valves
Segmented pads
Specifications:

Sideshifting: 2 hydraulic functions required
Non-sideshifting: 1 hydraulic function required
Rotating: 2 hydraulic functions required
Maximum operating pressure: 2000 PSI.
Recommended flow rate:
GBC19D
6-10 GPM
GBC27D
10-14 GPM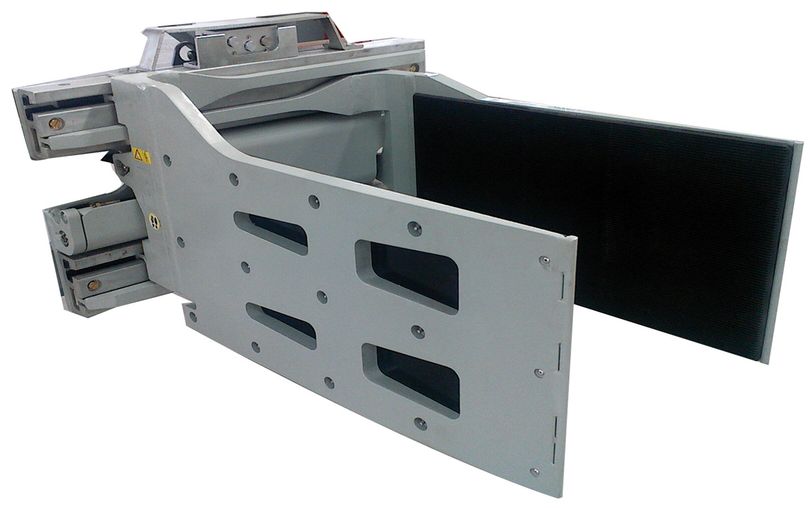 Bonded, grooved rubber contact pads provided needed friction
to reduce squeeze force required for handling. Bonding to aluminum plates makes the rubber extremely durable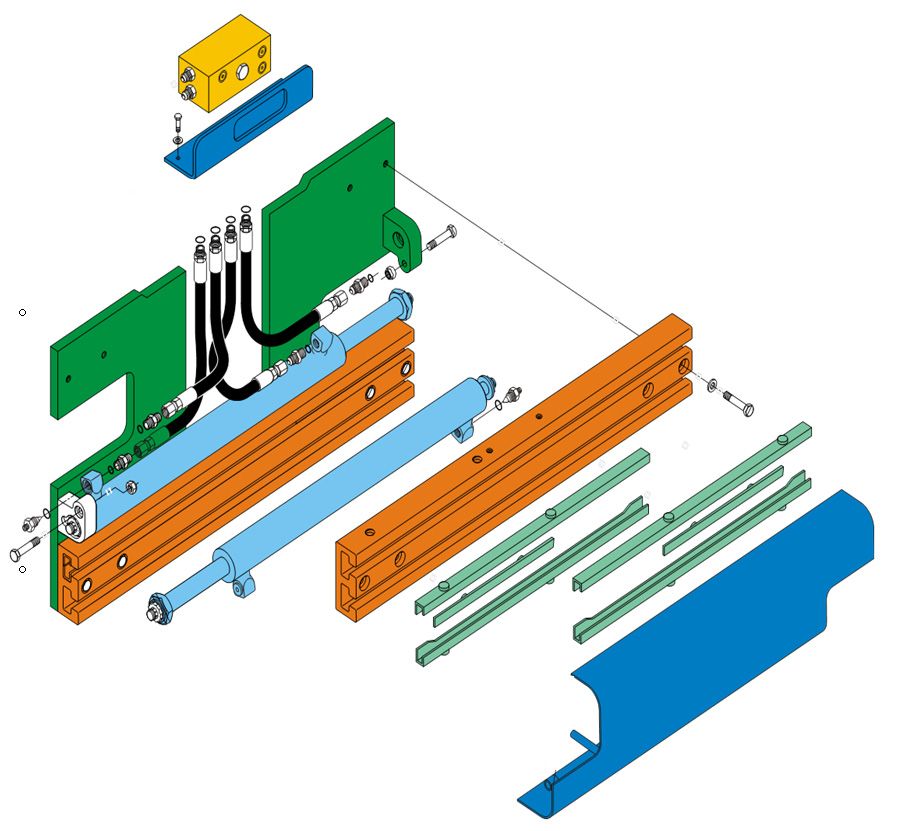 .
360 DEGREE ROTATING MULTI PURPOSE & RIGID ARM CARTON CLAMP

NOTE: Capacity of the truck with an attachment may be less than the attachment capacity shown here. Always consult the forklift manufacturer for actual capacity.
Catalog
Order #.

Mounting




Class




Opening
Range

HT

A

LGTH

B

FRAME

W

Arm
Thick.

VCG

WT / LB

WT / LB

HCG

3500

GA20D-MCR-02A

Ⅱ

22-70

18
40
41
2.5
13.4
1505
10.5
13.75

3500

GA20D-MCR-01A

Ⅱ

22-70

24
36
41
3
13.4
1475
10.5
11.5

Fork-Co Leads the Pack
With our industry best lead times (4-5 weeks on complex builds), full in-house engineering and design team, on-site manufacturing and fabrication facility just south of Houston, TX, and very large standard product inventory, Fork-Co is the right choice for your project. We stand behind our products 100%, either it accomplishes your goals, or we aren't done.