Fork Socks - Nylon Heavy Webbing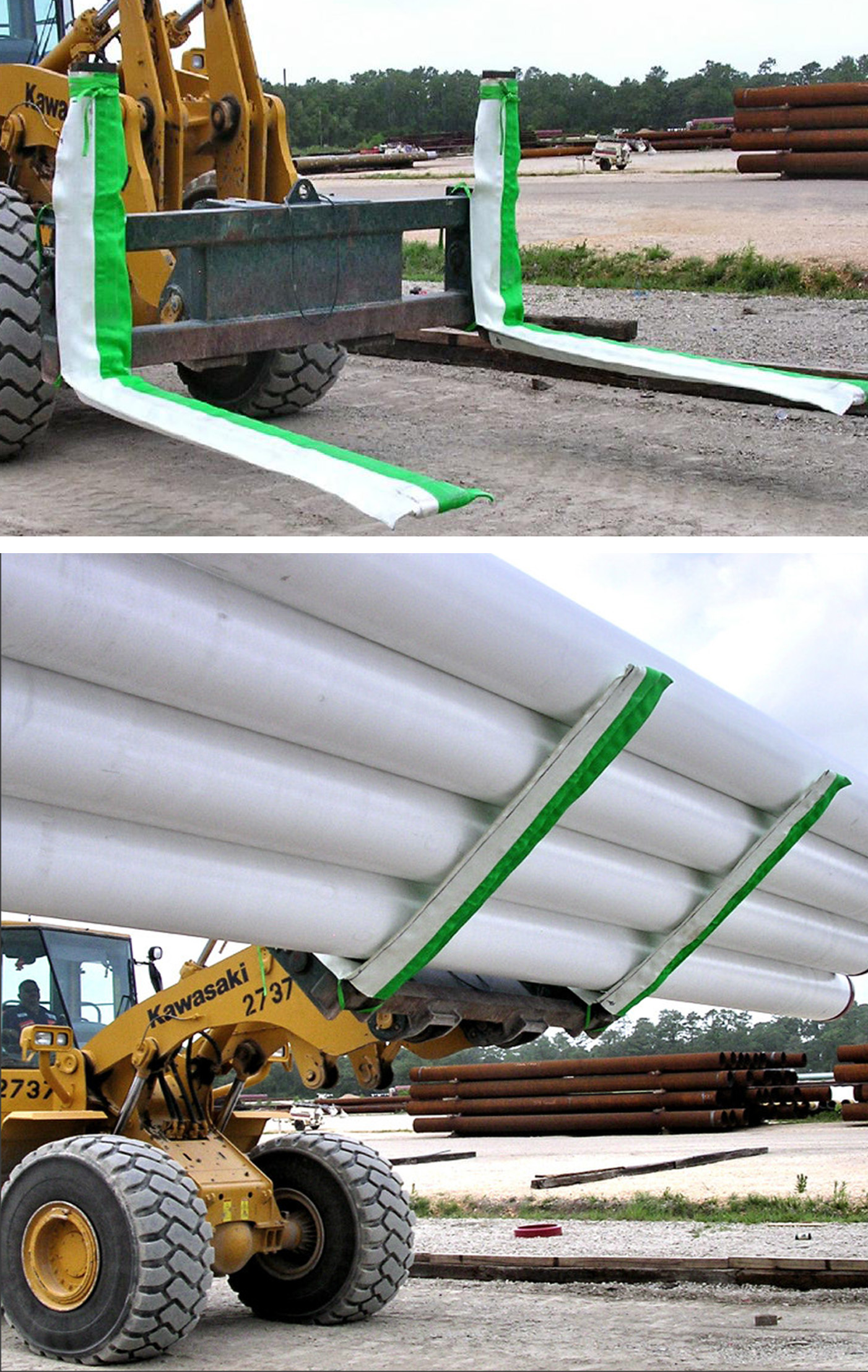 FORK SOCKS
FORK-CO fork socks are designed to protect loads that can be marred, dented, scratched or scuffed by the bare fork blades and backs. Fork covers protect tops, bottoms and sides.
Made from very heavy Nylon™ or polypropylene cargo webbing , they are long-wearing and tough enough for any job. As an additional; feature, black neoprene or white rubber can be sewn on the top surface of the blade. This option provides additional friction for slippery load surfaces.

Fork back apron is a continuation of the top webbing, strapped around the front and sides.

FORK SOCKS can be made to order for any fork size, any back height and any blade configuration. We make these in Houston, Texas for fast delivery.

Features:
Multi-laminated Top and Bottom Layers
Double Thickness Reinforced Tips with Rubber Liner
Easy On and Off


FORK SOCKS:
Our fork socks are sewn from thick woven Nylon or polypropylene webbing. They are a double laminate layer on the top and bottom of the fork blade. These layers are a continuous band from the rear bottom, up around the fork tip and to the fork shank. At the shank, the top layer continues up the shank a defined distance. This is the back apron. There are 1.5" wide straps covered in industrial strength Velcro. These fasten and secure the fork cover to the fork.
Inside the tip fold there is a layer of 1.4" thick neoprene rubber. This is to absorb some of the shock impact of the fork tip. In applications that will see more impact, or when the tips are extremely sharp, the rubber can be replaced with leather.
Ground/floor wear will shorten the service life of fork covers. Outdoors, abrasion like this can shorten the service life to 3-5 months. Efforts should be made to prevent running them across paved or gravel yards. Indoors, with smooth flooring, the same precaution should be exercised to gain service life of up to 2 years.
Extra wear and tear may indicate the need for the fork covers to be covered with RhinoGuard material which is similar to Kevlar in wear-ability and toughness.
Fork covers can be impregnated with a layer of very durable polyurethane. This works very well in handling materials that need protection to prevent slipping on the fabric material.
We do not recommend using rubber (neoprene) sewn to the covers due to a lack of durability. The friction and abrasion during entry and exit will drag on and rip the rubber. This will cause the customer to seek an alternative supplier on repeat orders.
Fabric covers such as ours do need to be slightly loose on the fork to allow ease of install and removal. This may cause some enlargement of the fork profile. Make sure the covers will not be used in very tight fork entries. They can, on smaller forks, be used to enter standard GMA pallet apertures. We will need 1.5-2" more height and 4-5" more width than the fork to ensure easy entry.
What we need to know:

The length, width, thickness , height, tip thickness and taper type and length of the base fork.
The height of the back apron that is required.
Load description: Weight, L XWXH and materials, if known.
The inside dimensions of fork apertures or pockets, if these are involved.
The clearances under the load for sleeve entry.
Need to have the Rhino-Guard or the poly coating for durability.

Fork-Co Leads the Pack
With our industry best lead times (4-5 weeks on complex builds), full in-house engineering and design team, on-site manufacturing and fabrication facility just south of Houston, TX, and very large standard product inventory, Fork-Co is the right choice for your project. We stand behind our products 100%, either it accomplishes your goals, or we aren't done.