Face Mask Magnetic Poly Protection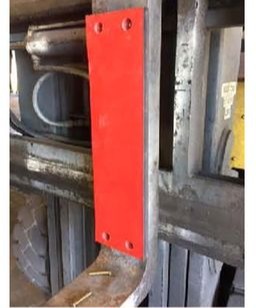 Face Mask Poly Protection
Face-Mask magnetic poly fork protectors are made with powerful magnetic backings and 85 Durometer polyurethane bonded to the face.
These long-lasting pads are designed to keep the carbon steel of the forks away from delicate surfaces.
Features:
-Designed to be installed onto the fork back
-Provide a thin profile with very good adhesion and lateral retention
-Made to fit any fork size
-Installed and removed safely using the provided jack screws

Uses:
-Forks handling stainless, coated and soft materials. The blade protectors cover the tops and the leading tip of the fork.
Face Mask Poly Protection
The Face-Mask product is a poly coated steel plate embedded with several powerful neodymium magnets. The product is used to attached padded protection to the shank of the fork. There are side tabs and sometimes a top tab to assist in holding the Face-Mask in position in case of side forces like sideshifting are seen. These are very powerful magnets, so the Face-Mask is installed with the aid of jack bolts that will keep the steel plate from injuring the installer's fingers.

Fork-Co Leads the Pack
With our industry best lead times (4-5 weeks on complex builds), full in-house engineering and design team, on-site manufacturing and fabrication facility just south of Houston, TX, and very large standard product inventory, Fork-Co is the right choice for your project. We stand behind our products 100%, either it accomplishes your goals, or we aren't done.