Multi Purpose & Rigid Arm Carton Clamps
Multi purpose & rigid arm carton clamps are used for handling palletless corrugated fiberboard cartons and boxes, wooden bins and crates, totes and lugs and in many bale applications where totes, bins, Gaylords etc. are common.

Arms surface is aluminum bonded to vulcanized grooved rubber to ensure secure grip and long life. The bolted rubber surface is replaceable.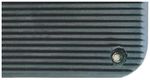 Available in standard and custom opening ranges as well as custom arm lengths and heights.
Arms are very thin profile for easy load entry. Tips of the arms are protected by steel guards to preserve the surface integrity.
Features:
Sideshifting, Non-Sideshifting, And Revolving
Capacities From 3,000 Lb To 7,000 Lb
Adjustable Arm Travel Speeds
E-Profile Aluminum Frame
T-Bar Alloy Steel Arm Carriers
Self-Aligning Cylinders
Lube-Free Contoured Arm Bearings
Cylinder Protection Bumper
Steel Abrasion Protection
Proven Design

Specifications:
Sideshifting: 2 hydraulic functions required
Non-sideshifting: 1 hydraulic function required
Revolving: 2 hydraulic functions required
Maximum operating pressure: 2000 PSI.
Recommended flow rate:
GBC19D 6-10 GPM
GBC27D 10-14 GPM
Options:
Special Opening Ranges
Arm Sizes
Quick Change Mounting
Bolt-on Arms
Solenoid Selector Valve
Relief Valves
Segmented Pads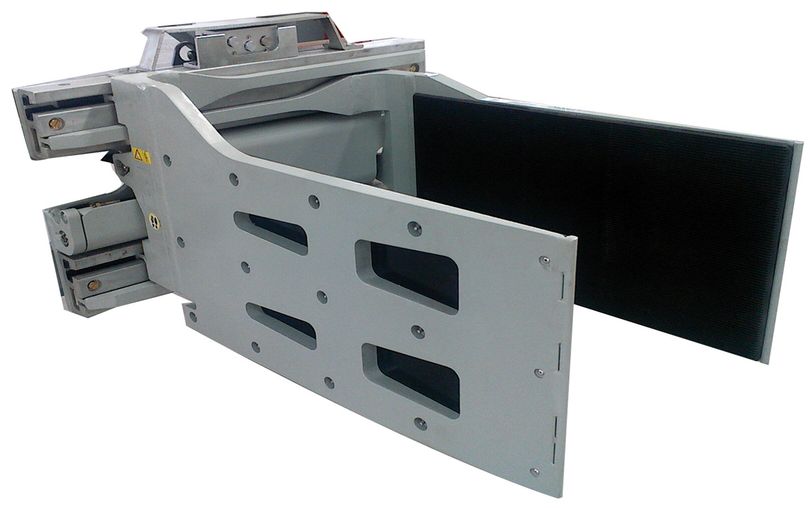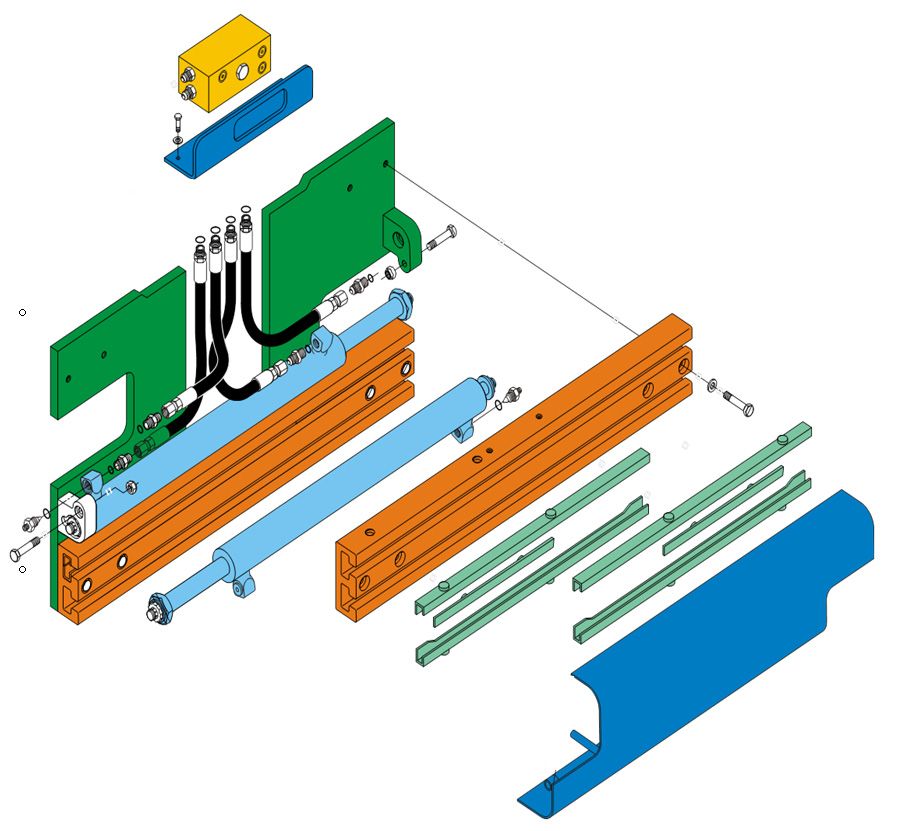 NOTE: Capacity of the truck with an attachment may be less than the attachment capacity shown here. Always consult the forklift manufacturer for actual capacity

Capacity
@24" LC
Catalog Order No.
Mounting Class
Opening
Range
HT
A
LGTH
B
Frame
W
Arm
Thick.
VCG
WT/LB
ET
HCG
1500
GA08D-MCS-01A

II
17.5-66.5
15
36
42
1.75
10.1
540
5
13.8
2500
GA12D-MCS-01A

II
18-63
18
40
35
2.1
10.5
1023
5
15.5
2500
GA12D-MCS-02A

II
20.75-69
18
48
35
2.5
8.75
1045
5
15.6
3500
GA20D-MCS-05A

II
21.5-70.8
18
36
41
2
10
850
5
1105
3500
GA20D-MCS-02A

II
22-70
18
40
41
2.5
9.3
1047
5
14
3500
GA20D-MCS-01A

II
21.5-69.5
24
44
41
3
9.5
1040
5
14.6
3500
GA20D-MCS-06A

II
22-70
24
48
41
3.5
9.8
954
5
15.2
5000
GA30D-MCS-01B

III
24-76
18
36
43
3
10
1064
6
8.5

5000
GA30D-MCS-02B

III
23.5-75.5
18
42
43
3.25
9.8
1194
6
10.9
5000
GA30D-MCS-03B

III
23-75
18
48
43
3.5
9.6
1320
6
13.3