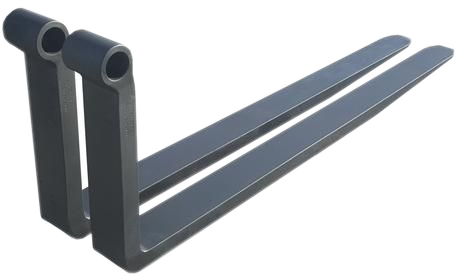 Pin Type Forks
Generally used on forklifts with over 15,000lbs Capacity, Telehandlers, and Wheel Loaders, but often found in other applications like aftermarket fork positioners. Pin Type Forks mount to the carriage using a high strength steel "pin" across the top of the carriage. There is no "standard" for the pin diameter, back height, or pin offset. Each set of Pin Type Forks is a custom fabrication.

All our forks are forged, shot-blasted, machined back, sides and tapers and are guaranteed to be level at the tips within ISO standards. All Fork-Co smaller (15,000lb or less) Forks are high yield heat treated alloy steel, ASTM 4140 or 4340. Our larger Forks are 15B37 high yield steel. All our forks undergo individual magnetic powder crack checking.

We keep Fork Blanks in stock for Pin Type applications up to 110,000lb capacity at 48" LC. Larger units are available with a minor lead time.

Pin Type Forks Done Right
Proprietary Weld Process
Fork-Co employs a proprietary thermally managed weld process to ensure a strong and seamless fork assembly.
Precision Machining
Our on-site precision machine shop ensures no less than perfect pin tube placement and maximum weld prep surface area without sacrificing fork shank or pin tube integrity.
Un-Matched Experience
The Fork-Co fabrication team simply can't be out-done. With decades of experience on the shop floor, we know what works.
Why Fork-Co?
Industry Leading Delivery
We know you can't wait 8-10 weeks for a set of Forks. Our standard lead times for custom forks is 1-2 weeks. Need it faster? We can do that!
We Listen
Not every application fits the traditional knowledgebase. We pride ourselves in understanding your application and delivering exactly what you want.
Integrity
It's our guiding principle. When you place your trust in Fork-Co you are guaranteed that you will be happy with the performance of your product. If you're not, we aren't done.
*Providing the minimum information above will allow us to quote price and lead time for your custom forks. Additional details and dimensions will be required for fabrication. See the Fork Profile Drawing for those items.

Fork-Co Leads the Pack
With our industry best lead times (4-5 weeks on complex builds), full in-house engineering and design team, on-site manufacturing and fabrication facility just south of Houston, TX, and very large standard product inventory, Fork-Co is the right choice for your project. We stand behind our products 100%, either it accomplishes your goals, or we aren't done